Going to the store to find holiday decorations for your home is always great, but what makes decorating even more fun is doing it with your family! We've gathered some fun DIY holiday decor for you to do with your family, ranging from the simplest varieties and more complex decor. Happy decorating!
#1 Snowball Wreath
This is a super easy way to get a chic new wreath for the winter time! Hot glue together styrofoam balls of multiple sizes on a wreath form, building on top and closing gaps as you go. Then you can add on ribbon, glitter, lights or anything else to match your decor! You can get these supplies from your local craft store. Hang it up with wire or ribbon!
#2 Felt Christmas Trees
Putting some small trees on candles, vases, picture frames or other items around the home are a great way to subtly tie in the Christmas spirit! Use a variety of shades to add some contrast and really help them stand out. Just go to your local craft store and pick out several different sheets of felt. Then trace out different sizes of christmas trees and hot glue them to anything your heart desires!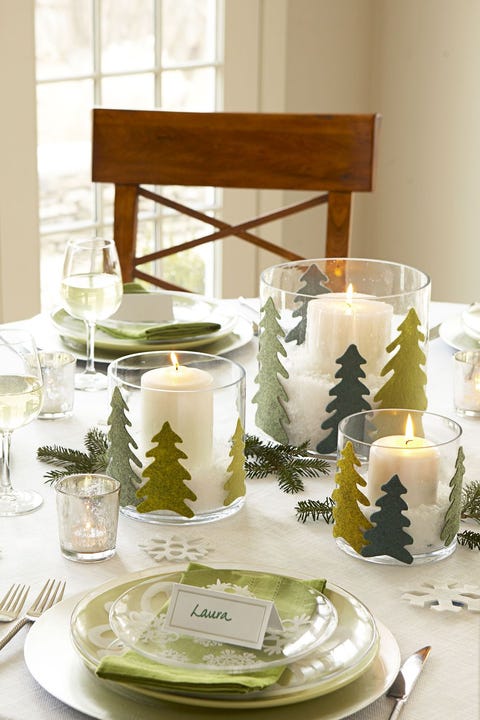 #3 Snowman Logs
Get some different sized log slices together and hot glue them. You can also hot glue on details like scarfs, hats, buttons eyes and so much more! This is a great idea for an outdoor or indoor decoration.
#4 Burlap Lighted Garland
This one is so easy and adds a homey texture to your decor. Cut strips of different colors of garland and tie them around a string of lights until somewhat full. You can also you other fabrics to mix the textures! You can put this anywhere in the house to add a touch of warmth!
#5 Paint Stick Ornaments
If you've been busy painting this year, save those painting sticks! You can cut them down and add greenery, or ribbon to them to make them looking like large ornaments. This is a fun and rustic decoration to put on the wall!
#6 PVC Pipe North Pole Lights
If you're trying to find a way to string those lights all the way around your yard or along your pathway, this is a adorable and affordable way to do so! Use red paint or duct tape around to make them more festive, stringing the lights through the pipes and up into each small globe you can attach. Click the image for more thorough instructions!
#7 Stocking Pallet Holder
This is a great alternative to traditional stocking hooks! You can find free pallets in several places. Collect some, arrange the pieces how you like and stain with a color that matches the rest of your decor. Then paint or stamp on any decoration you like and add some hooks! Simple as that!
#8 Birdseed Christmas Ornaments
While this isn't a decoration for inside the home, it's definitely a fun decoration to make with the whole family! Use christmas cookie cutters to make different shapes and put them outside to draw all the birds to your yard while bringing in that holiday spirit. Click the picture to get a the recipe!
#9 Pine Cone Wreath
Creating this cute pine cone wreath is super easy, even the kids can do it! Paint and glue pine cones on a wreath form, and you could make them any color you would like! Add any sort of decoration or ribbon and it is ready to hang on the door!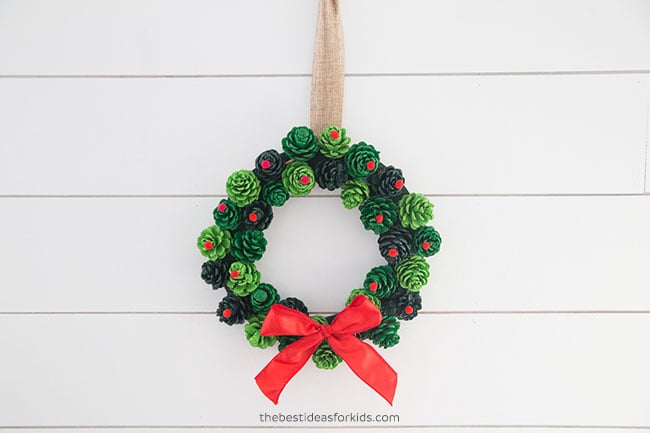 #10 Gold Garland Using Straws and Beads
This last DIY is another fun one to do with the whole family! String together gold beads, gold paper straws, sequins or ribbon to create a beautiful piece of garland that your family had fun making too! You can get really creative with this one as well.
We hope these projects have inspired you to add your own personalized touch throughout your whole home! There's something for everyone in the family to do and there's nothing like the holidays with your family! Have fun being creative this year and happy decorating!
Still looking for that dream home to fill with your DIY decorations? Don't hesitate to contact us and we'll get you started on you holiday house hunt for the home you've got on your Christmas list!!